Reliable communication solution for a sport stadium
Tue 02 Aug 2016 03:57:00 PM EEST
Currently the largest stadium in Finland, Helsinki Olympic Stadium, is closed for renovation works, and therefore smaller, less known stadiums will have opportunities to host big sports events and concerts. After going through comprehensive modernization, Tampere stadium (also known as Ratina Stadium) is now ready to welcome world-class sports stars and artists too. Nestor Cables accompanied Tampere Real Estate Services to develop and implement a modern, fibre optic cable based communication solution for the stadium.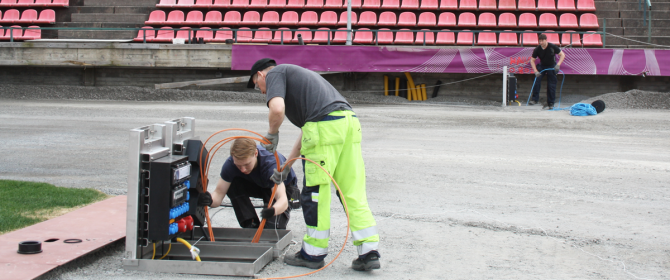 In the modernization process playing field, running tracks and other points of sports performance were of course renewed. However modern stadiums also demand solutions to communicate and broadcast events to a wider audience, and to keep effectively a record of sports performance results. Reliability and possibility to scale were deemed essential qualities for the communication network in Tampere stadium, and therefore a solution based on fibre optic cables was chosen.
Nestor Cables' portable fibre optic cable units can be carried easily and neatly to focal points of events to create customized, temporary fibre optic cable networks to suit the events specific requirements. This comes handy especially during athletics competitions, when different kinds of sports are happening all around the large stadium. Our portable cable units utilize special field cables which are robust and suitable for even extreme conditions – this is proven by the fact that even the Finnish Defense Forces uses these same exact field cables!
At the both ends of the stadium there are special handholes which are supplied with hinged covers. Both electricity and fibre optic cables are located in these handholes. Waterproof, pre-connected IP-LC connectors ensure that the solution is weatherproof and cables can be installed and connected smoothly during the initial installation and later in use. With our portable fibre optic cable units cables can be carried everywhere on the stadium to create an effective, modifiable communication network for organizers, officials, general staff and broadcasters.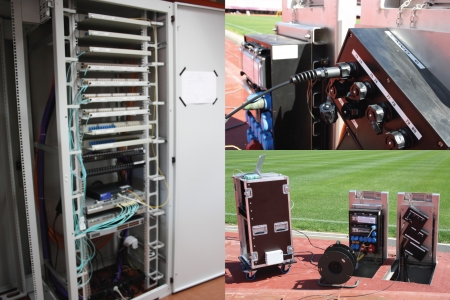 Left: connection cabinet; right from top: special handholes with IP-LC connectors, special handholes with Nestor Cables' portable fibre optic cable units in the foreground.
Fibre optic cable network was finished in summer 2016, and the renewed system was tested in July. When the autumn comes, the system will be put to the real test when Tampere stadium hosts traditional annual sports competition between Finland and Sweden.