Optical fibre cables in windmill parks
Mon 01 Aug 2016 03:51:00 PM EEST
Nestor Cables fibre optic cables are also used in windmill parks to control individual wind mills. Since year 2015 we have taken widely part in 2 big windmill park building projects in Finland, in Ilmajoki and in Kristiinankaupunki. Currently the park with 17 wind mills in Ilmajoki is the largest windmill park in Finland, however the park in Kristiinankaupunki aims to have even 34 wind mills.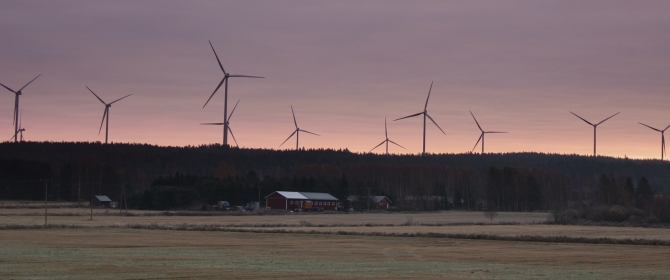 These wind power parks are ventures of EPV Tuulivoima Oy to advance eco-friendly energy production in Finland. The cables were installed by Ravera Oy. Nestor Cables supplies microducts and nearly all fibre optic cable installation accessories to these projects. We have also taken part in planning fibre optic cable networks in these windmill parks.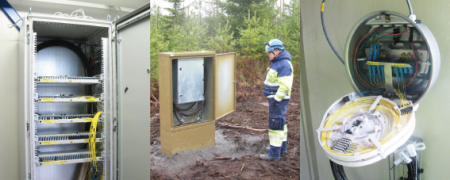 Both of the mentioned windmill parks utilize microduct installation in their cabling solutions. In this installation method bundles of microducts are installed in same trenches with electricity cables while roads are being laid in the area. When microducts have been installed, non-metallic microduct cables can be blown into microducts when the most optimal time slot arises.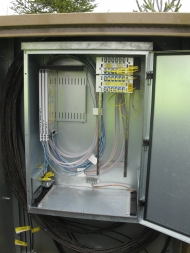 During these projects Nestor Cables has acquired a lot of knowledge and experience which has enabled us to develop our own optical fibre cabling concept and solution for windmill parks. This solution is based on a carefully assembled selection of products from fibre optic cables to installation accessories.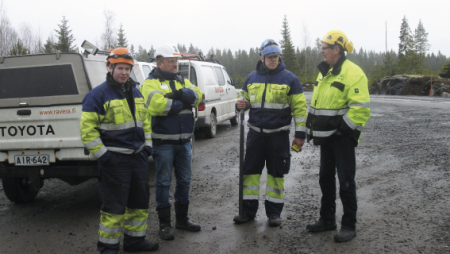 Builders of the fibre optic cable network: Project manager Stefan Holm with mechanics from Ravera, and Markku Koivisto who offered specialty support to the project, Tmi Markku Koivisto
(Photos were taken in windmill park in Santavuori.)